Bike: Rocky Mountain Bicycles Element
Tires: Maxxis Ikon
Front Pressure: 23
Rear: 25
Fork: Fox 34 Float
Rear Shock: Fox 
Front Ring: 32
Rear Cog: 11/42
Back Pack?
No, I've just been stuffing my pockets with snacks.
Have you adjusted any of your set up since you started the race?
Just the change of tire.
Is that any different than what you'd normally run?
I run a little burlier tires at home because I'm not too worried about speed. But I aired on the site of more aggressive tires [for the race.]
"I started out with 2.35 [tires] front and rear, but I sliced a sidewall the first day, so I went down to a 2.2 because that's what they had in the Rocky Mountain van. But it's a pretty good combo. Maybe a little bigger than necessary, but I'm out here to have fun on the descents!"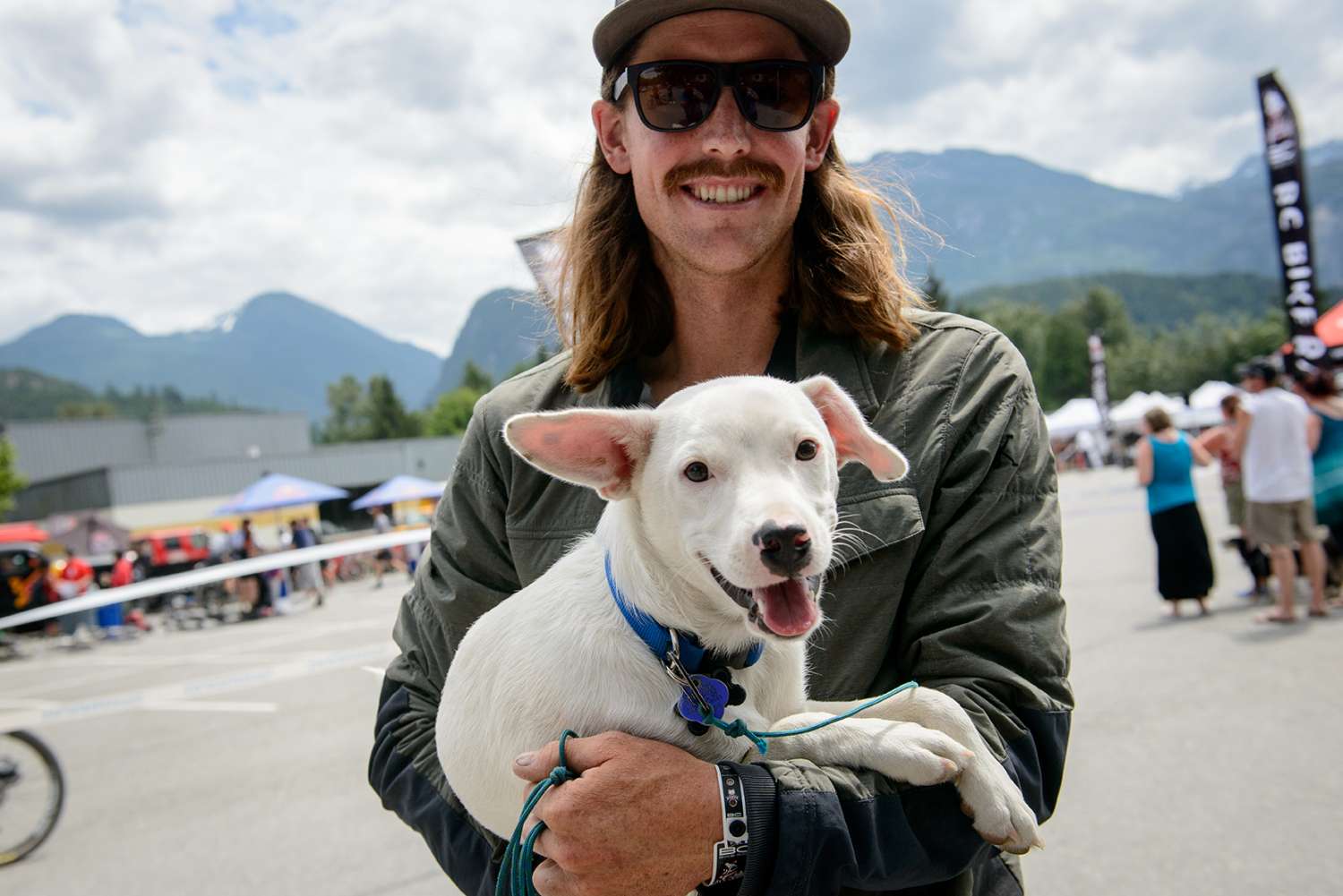 First, let's talk about your dog. Where did he come from?
He came from Mexico. I spend my winters in Tuscon, Arizona and I have a motorcycle down there, so  I went on a little motorcycle tour through Mexico. I was on my way back up along the coast; a really beautiful section of road, and there was black smoke billowing out of this dump and I thought it would be an interesting photo. I went in there and there was a puppy so I ended up coming back with the van and I scooped him up.
Do you spend your winters traveling around?
This winter I was working for a company called the Cycling House. It's like an all-inclusive bed and breakfast-style, ride guide service. We have a big house in Tuscon that we guide out of. It's mostly road riding and we did one mountain bike camp. So that's what I was up to for a good chunk of the winter, but I had some free time too so I just cruised around, just checking places out riding my bike, motorcycle, and exploring.
In 2012 you went to the Olympics and placed 15th, what was that experience like? 
Oh man, it was a great experience. It was so cool to realize that dream and get to compete at one of the highest levels of competition. It was super fun, definitely a career highlight.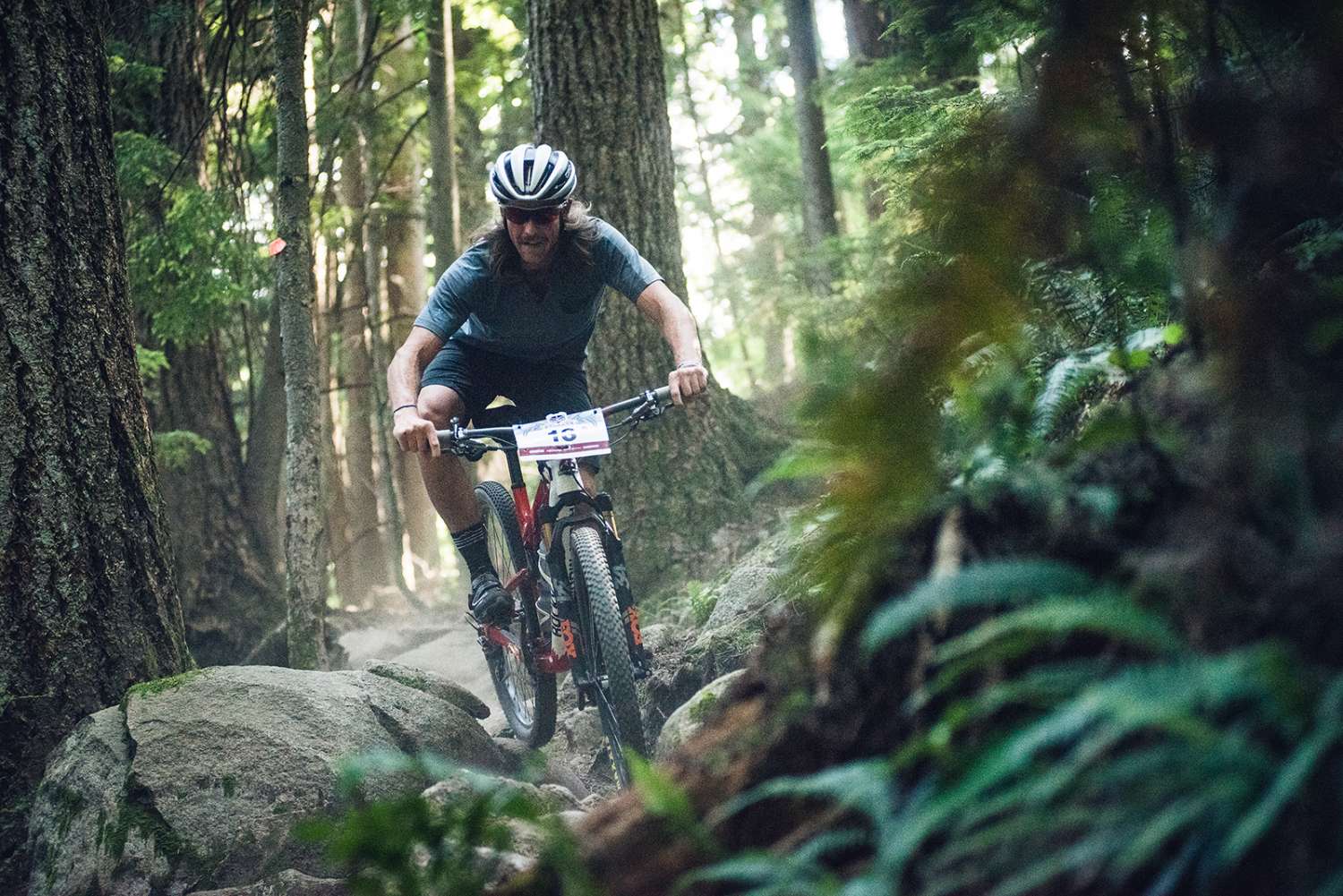 How did you end up here?
I was a full-time racer, that was my thing for a lot of years. Actually, my 2012 season was not my best season of living. I pushed through a lot of back issues. By 2o13 it wasn't really working anymore. I had some nerve issues and my leg was not strong or big. And just wasn't' working. I fought pretty hard to get back to racing because that was what I knew.
I ended up having a couple surgeries and the first one didn't go very well. I ended up with a spinal infection. I had another surgery and tried to get back again, but to be at that level with the training that's required and the consistency, it just wasn't working anymore. So finally I took a step back from that, I guess I kind of decided that last year. Of course, I tore my ACL right after making that decision – I've had a string of injuries. But now I'm just riding for fun.
I got hooked up with Rocky Mountain as an ambassador. They're a cool company to work with, they're supportive of whatever I do. They presented the opportunity to come to this race. It's been one that I've always wanted to do, during my racing career even, but it just never fit in. Now that I've kind of mellowed on my back a bit and I'm just riding when it feels good, it's been feeling pretty good so I thought, 'we'll see how it goes.' I set pretty low expectations for myself and with Rocky Mountain, because I'm not really training, I'm just riding when I feel like it.
It was a bit of a surprise to be up there [in the standings], more than I expected. It was really fun, I've raced with those guys – Stephen and Kabush, a lot in the past. So it's pretty fun to get back in the mix just a little bit with them before they decided to actually go fast on the climbs! It's been a good time and the best success for me with this whole race has just been how my back has felt - it's been good. It's been a long time since I've done a race without my back being the limiting factor. So I'm really happy!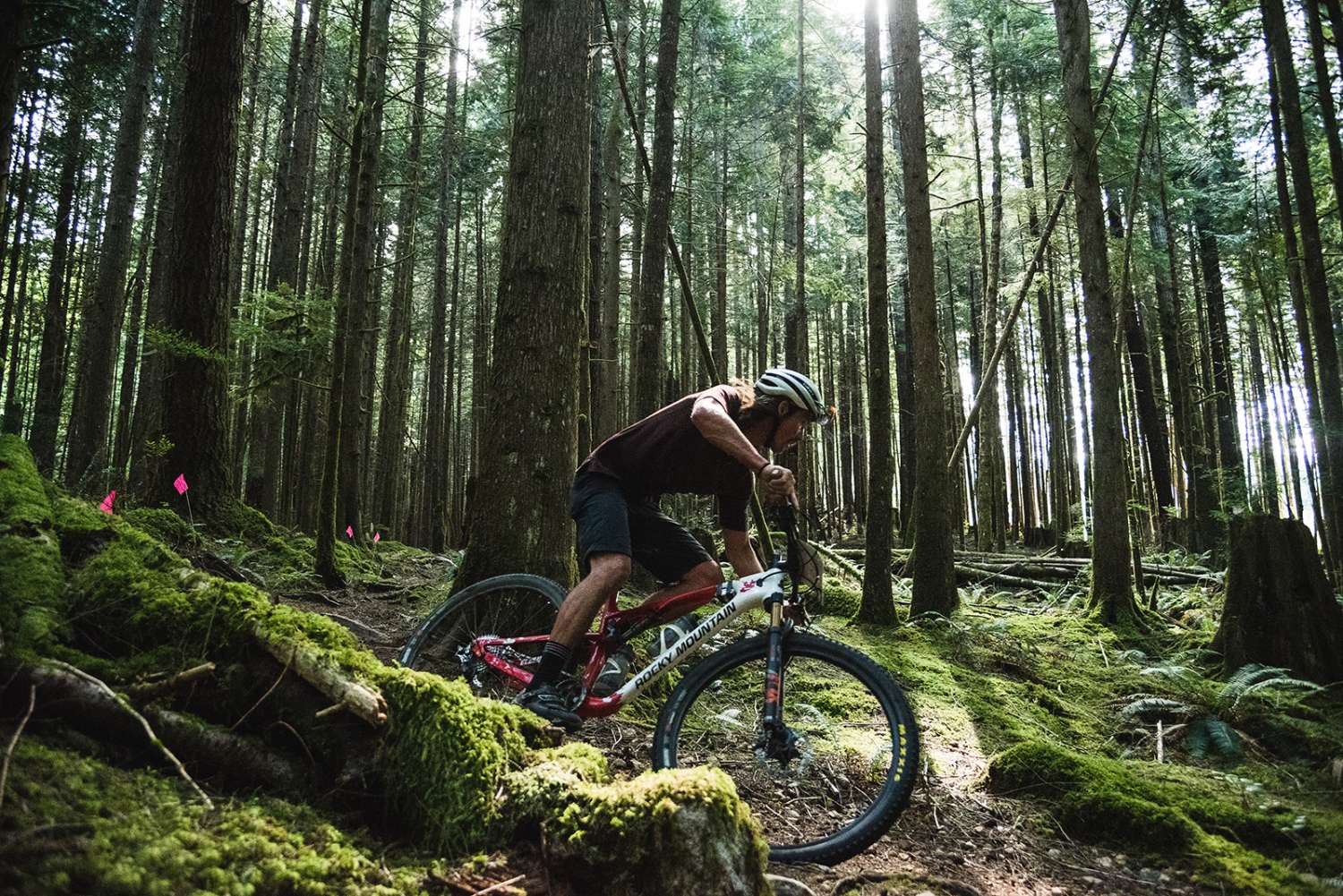 Out of the five stages that you've ridden, which was your favorite?
Actually, the stage that suited me best – steep climbing, steep descending – was the North Shore stage. I think I was starting to get a little sick that day, I thought maybe I could burn it out of my system. I still had a great ride and I didn't feel like it limited my power or anything. That was good.
And that last descent on Day 3 was completely amazing! That was fun and that was the day that went the best for me, I ended up third that day. That was pretty sweet, but man, all the stages have been unique in their own way and just running through these forests and sharing the experience with everyone at camp and, you know, that's been a cool part of it. The food has been amazing, the people are great.
It's definitely a different level of riding for everyone. You know, the people who are out there riding for six or seven hours every day – that's a huge accomplishment. There's mutual respect through that and it's fun to be a part of it.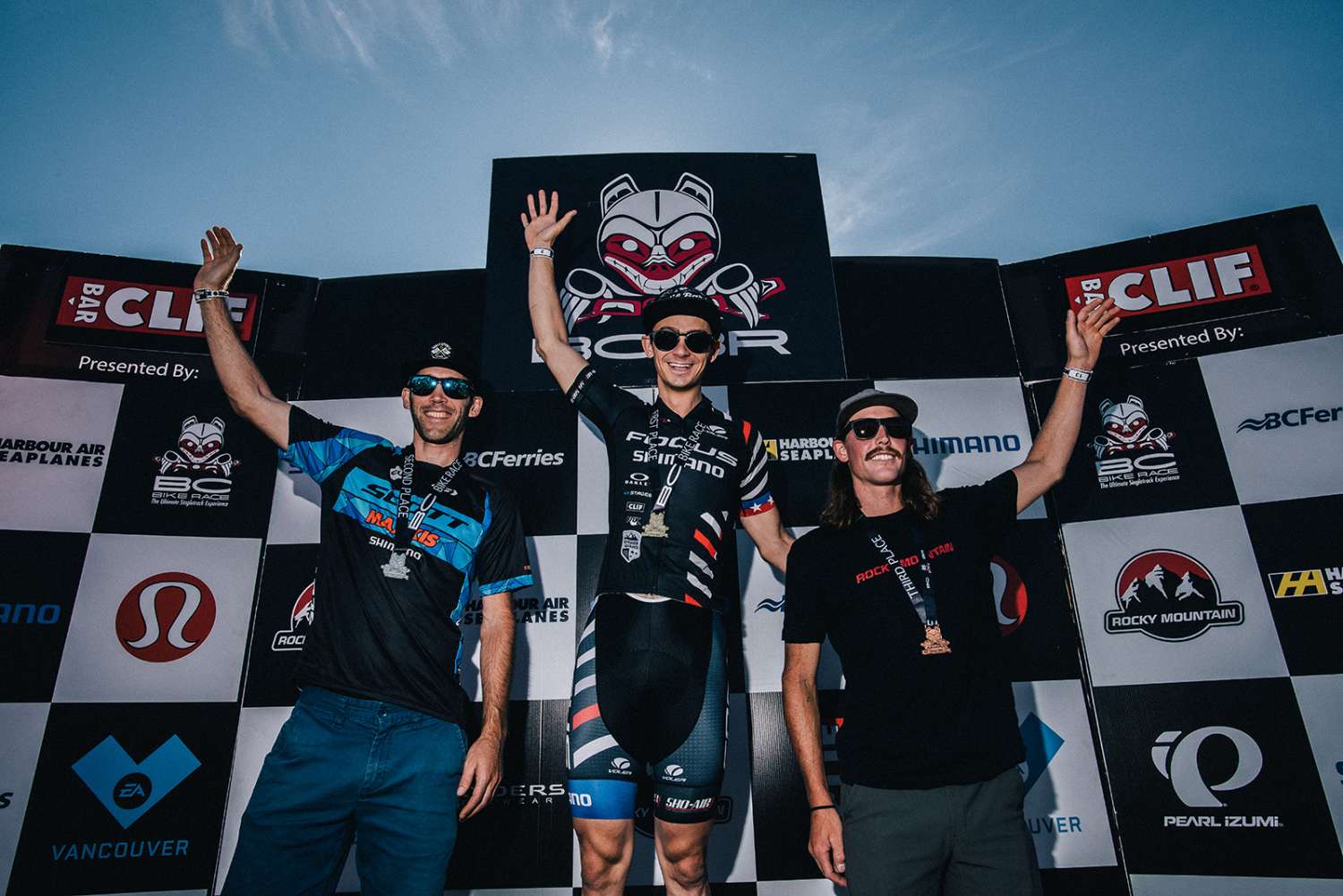 "It's a different level of riding for everyone. You know, the people who are out there riding for six or seven hours every day - that's a huge accomplishment. There's mutrual respect through that and it's fun to be a part of it."
I was speaking with Jessie Melamed and he explained that he could have slept in his own bed last night, but he didn't want to, he wanted to stay at basecamp because he's enjoying the experience so much. Did you feel that way also?
Yeah, definitely. It actually was pretty convenient staying in tents. I have my van now, mostly because I wanted to pick up my pup who was staying with a friend in North Vancouver for the first couple of days. But that's another bummer about feeling sick, I'm a little less social because my throat hurts and I'm wiped out a bit. So that's a bummer because it's been so fun hanging out with everyone, but hopefully, I can kick it and make a recovery for the party!
Did you find it challenging to make the call today to pull out of the race?
Yeah, I woke up feeling pretty bad and thinking I shouldn't start. But I thought I might as well start and I could just soft pedal through it. But that first climb I was not feeling that good and then I hit the first section of trail. Every bump I was feeling achy through the head, neck, and shoulders. I was freezing cold by the time I got back down to basecamp, so I think it was a good call. It's hard to make that decision for sure, but I think that's part of what I've learned – I kind of pushed myself, I think I caused, well, I obviously caused a lot of my back issues just by being stupid and pushing through it. So I'm trying, in my old age, to be a little better about actually listening to my body. Pushing hard when it feels right, but it just didn't feel right today.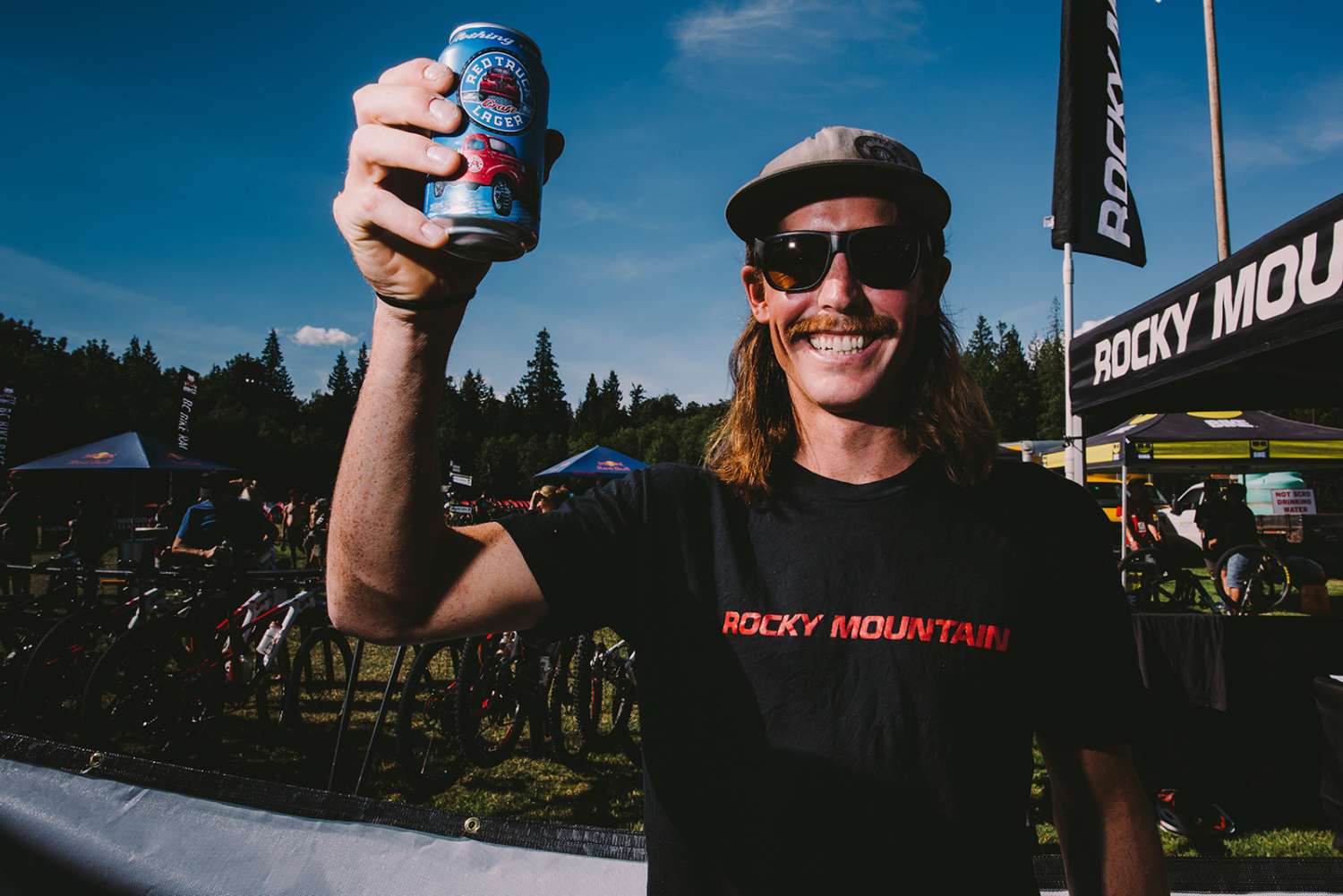 Sam pulled out of the BC Bike Race on Stage 6 in 2017 due to illness, but will be back for 2018 and is looking forward to earning his Finisher belt buckle!