Bike: Cannondale Scalpel SI Carbon 3
Tires: Maxxis Ikon
Front PSI: 25 (adjusted to 21)
Rear PSI: 25 (adjusted to 21)
Fork: Lefty 2.0
Rear Shock: RockShox Monarch XX
Front Ring: 32
Rear Cog: 10/50
"I've never ridden a bike with 2.35 tires on the front which is awesome! I run tubeless Mavic Crossmax alloy rims. I definitely built my bike to last all week and not get into trouble. I don't have any carbon rims. I put a dropper on it, I came with the understanding that what I was going to ride on was going to be harder than anything else."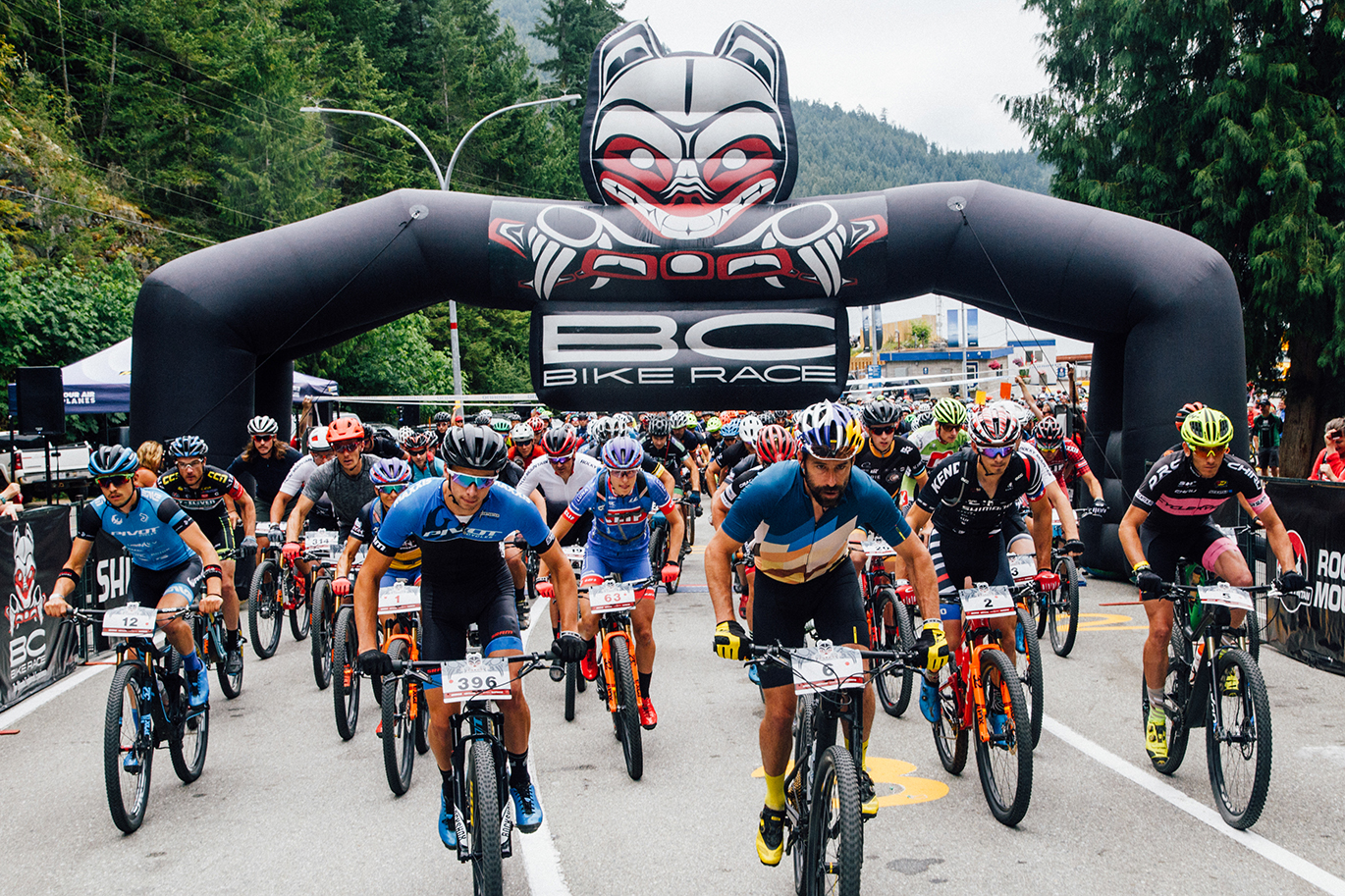 I heard that you pulled some crazy cyclocross moves on Day 3 during the descent into Langdale.
Yeah, we got stuck in an A and B line situation and I went right when I probably should have stayed higher and gone left. And when you went right it went into a three-foot tall trunk of a tree. But I saw it and I immediately hopped off and just jumped over the thing and kept going again. And I hear behind me, "Oh, what the? Oh, look at that move TJ!"
Are you finding your cyclocross skills useful here?
I grew up as a mountain biker. I started racing mountain bikes first and then I got into cyclocross and then I got into road. I've had mountain bikes over the years, but I don't actually have a mountain bike at home right now. I built this bike just for this week, but over the years I found times just to get into some races. I did Brek Epic with Leadville right before, so that turned into a seven day 350-mile mountain bike race, all at high altitude. I did Transylvania. These were all pre-cross season; training camps basically to get ready for the cross season. That's how I would kind of get my skills back up. Right now I feel like my skills are improving, except for the fact that the riding that you guys have here is really – it's a lot different than what we have on the East Coast. We have stuff without a lot of elevation change, we have super technical kind of flat singletrack and then we have ski areas that have underdeveloped or even natural trails. But we don't' have stuff like we saw today and we don't have the amount of stuff like we've seen all week. I've definitely had big tests of stuff I can't remember ever learning but I know it's in there somewhere. I'm like 'oh shit, guess I'm just going to go for it,' but I think that's one of the best parts about it – why else would I have been riding for the last twenty years if I can't come to a race like this and feel challenged? And also get to the mindset where I'm thinking this is something I would never do otherwise? I just want to do this more and more and more. After having raced for so many years I haven't' had that feeling in a lot of different places so I feel really lucky that I can be here and be doing that right now.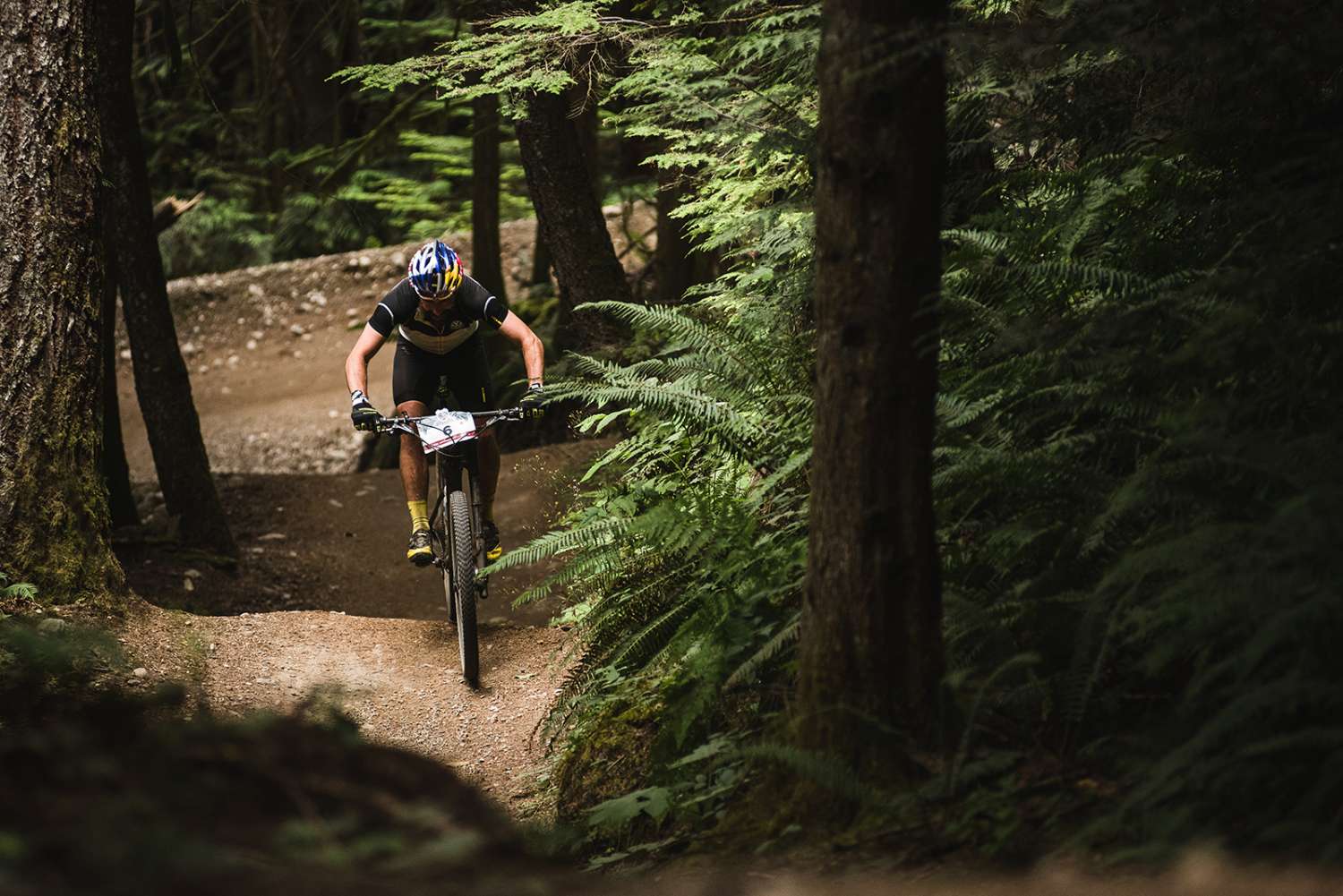 With where we are now, on Day 6, what have you found to be your favorite stage so far?
Two days ago [Sechelt to Langdale] was probably my favorite, because I still had some hands to hold on to the bars. I remember turning onto a section of trail where it looked like it had just been cut, I was in fifth so there were was the track from the dirt bike, and four other people, and then me and it was moss on either side and in my mind I was like, 'this is exactly the photo I've seen a million times of riding in BC and I'm doing it right now.' Kicking up chunks of moss and ripping around the corner, that to me brought it home that I was at BC Bike Race. That was it.
"Kicking up chunks of moss and ripping around the corner, that to me brought it home that I was at BC Bike Race. That was it."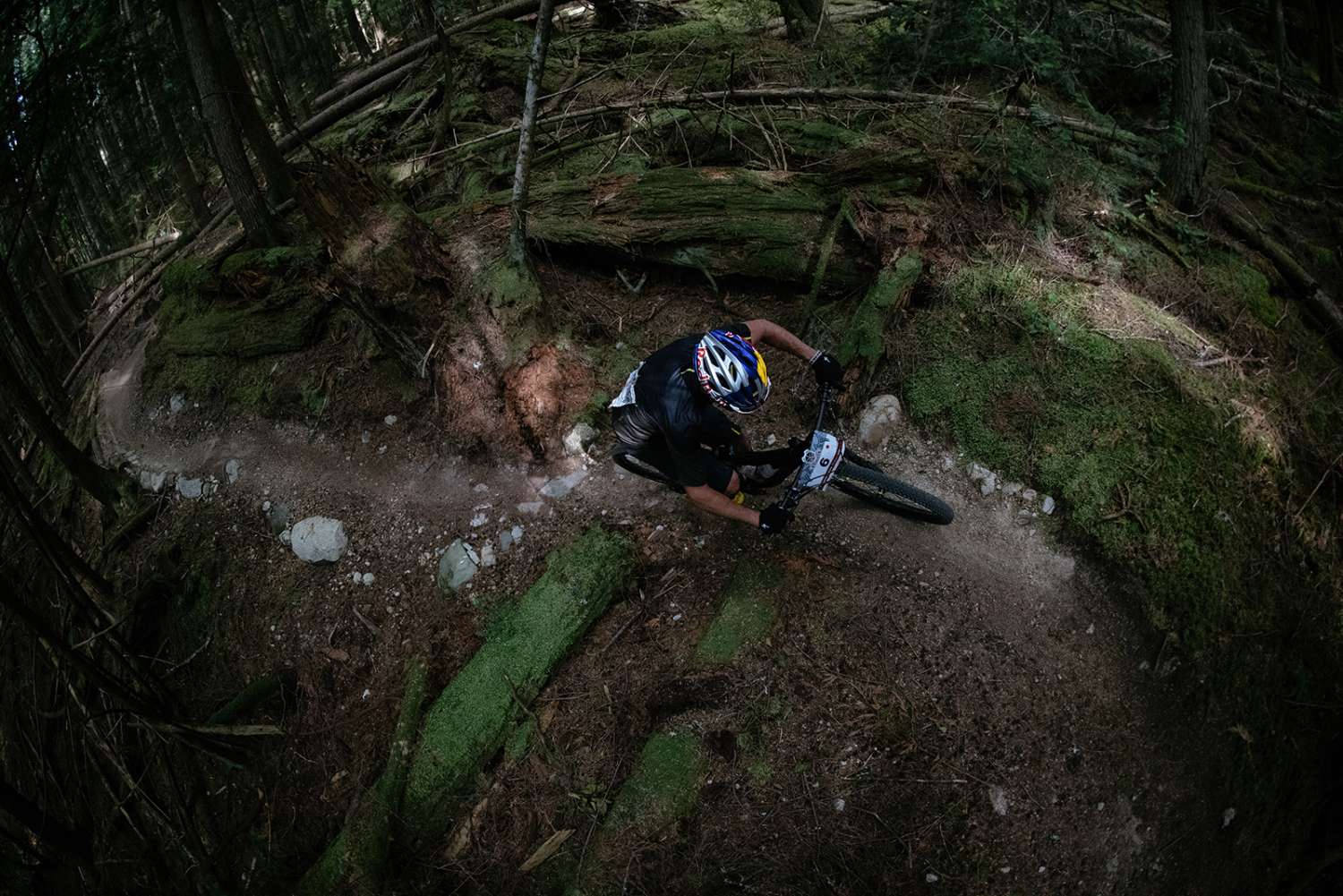 I like big climbs and big descents, but I also really like the slow speed technical stuff, because that's really what I used to do when I was growing up. Yesterday [North Vancouver] was a little too big for the bike I was on, just being not really ready for it. But talking about racing blind, not being able to see what's on the other side, or there are three different ways I can go down this, I don't know which way to go. I'm not afraid to do a chicken line, but it's really hard when you don't know which one is the chicken line. It's a little scary.
What happened with your hands?
I developed some pretty serious blisters because I showed up to Day 1 with a new bike that I hadn't really ridden before and I had too much pressure in the front and the rear tires. I had too much pressure in the front and rear shocks – and I had a pair of really skinny grips with a ton of knobbies on them. I had gloves on and I never wear gloves. In cross I never wore them. And so I was trying to go fast and trying to keep up with the lead group and I just shredded my hands and since then I've been dealing with the repercussions of that. Medical has been really great about helping to get some use out of them.
In the meantime, I've had a crash course on suspension set up. In cyclocross, I would race anywhere from 18 to 24 psi in my tires. But every half pound mattered. Every single time you had to get the right tire pressure for the course, so having all week to figure that out, I'm glad this is seven days and not three because I would have been pretty bummed out if I had to go home with bloody hands and a really shitty feeling.
I don't know where I sit in the overall, but it doesn't really matter, I'm trying to have a good day. Today was definitely a good day. Staying top five through the mid part of the stage.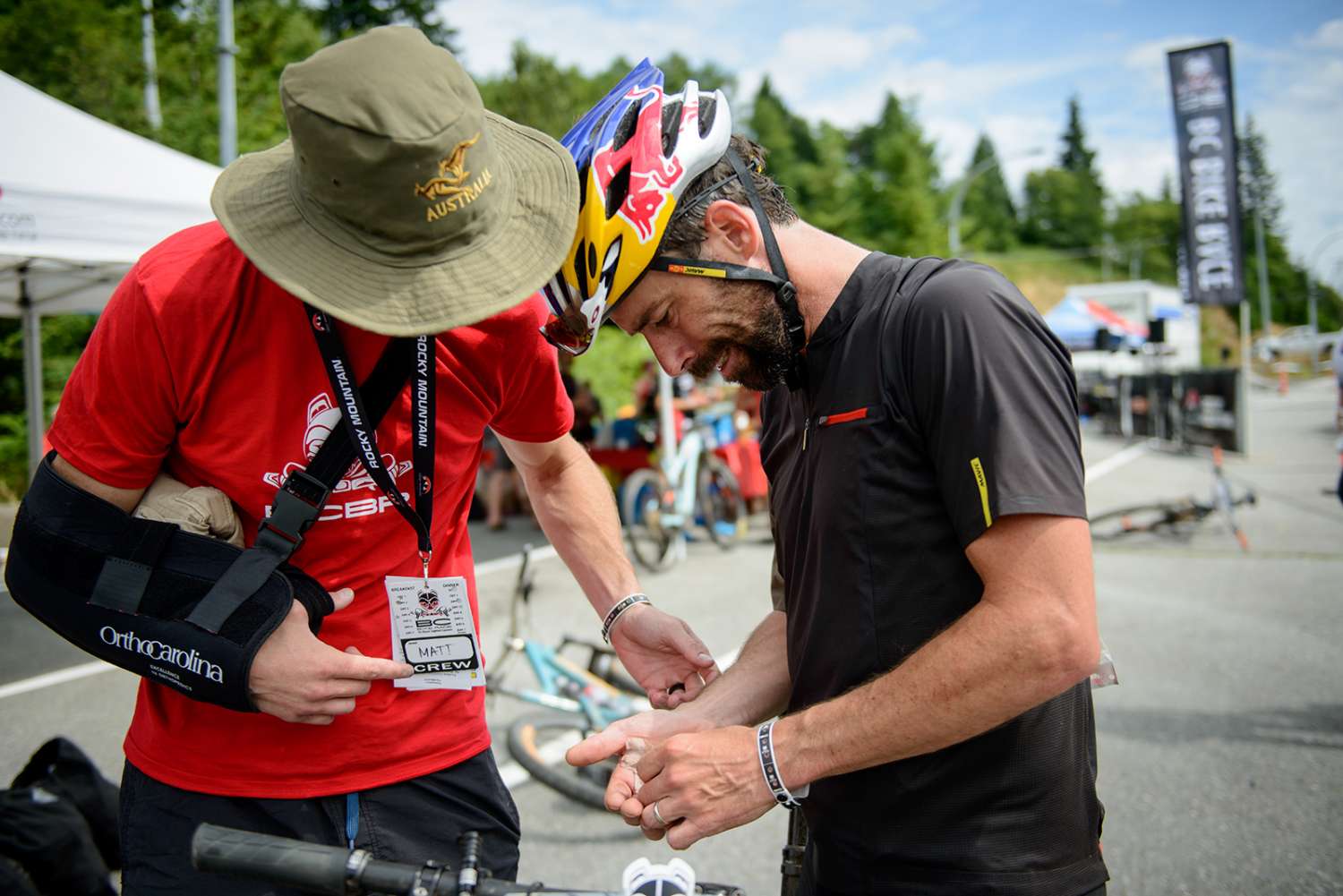 Are your hands hurting more now because you've had to adjust how you're holding on?
Yeah, so after getting the blisters, then I was using basically my thumb and my forefinger and nothing else and trying not to have the pads of my hands on my bars. Two days ago I almost went over the bars a couple times because I wouldn't be able to hold myself because then my thumb got weak. I mean, shit, everything is connected. Whatever is happening out there, I'm throwing everything I have at it.
Everyone's been great. And I know I'm not the only one and my day is four hours shorter than a lot of other people who are out there suffering. I know people go through a lot of hell to get to the finish line each day, so what I'm going through is a small fraction of the shit that people are getting into.
"I know people go through a lot of hell to get to the finish line each day, so what I'm going through is a small fraction of the shit that people are getting into."
Today might have been my favorite day overall just for the variety, and the fact that every single climb wasn't 20 minutes, it was 12 and then it had a really fun downhill or singletrack section that wasn't straight downhill following - and that's the best part.
Highlight and lowlight of the week so far?
Non-riding favorite part was definitely the Harbour Air seaplane because I got to sit co-pilot and the scenery is unbelievable. I got a real taste of BC in the summer.
Favourite bike moment, probably that random drop to flat three days ago that I just didn't even see coming and I was behind Ettinger and Stephen just rolls off the thing and I was two bike lengths behind him and I was like 'Jesus, I guess I've got to go too' and I just landed and was like 'alright cool, what's the next section?'
Low light? Probably not being able to hold on the way I want to hold on. It's not a lowlight, just more frustration. It's like preparing for a marathon and you've got an injury that's bothering you. You don't get the experience that you would like to get. But luckily that was only two days out of seven and I can totally deal with that ratio.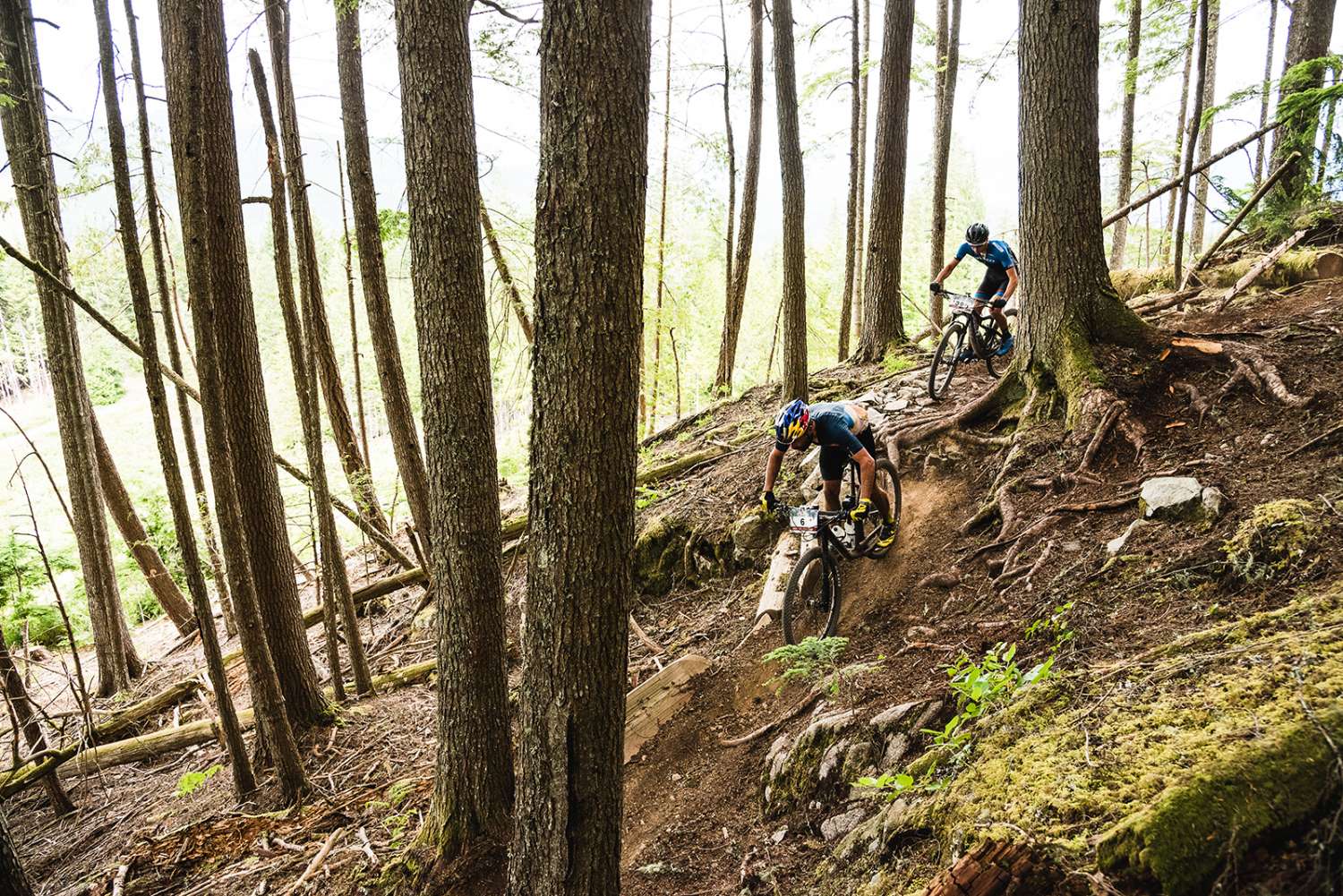 How do you deal with disappointments, like injuries, in racing?
It's all within yourself. Pressure is all self-made. When you ride for a really long time you get to kind of watch or feel that erode away and feel what that pressure actually does to you.
It really helps who you learn from and when – what part of your career you learn those lessons in. Because you might have had those learning moments and you're not ready and you don't learn anything.
Who were your mentors?
I learned a lot from my wife, she's the real athlete in the family: Lyne Bisset. She's a road cyclist from Canada. The ability to combine hard work with talent – I've known a tonne of people with talent who don't have any work ethic and knowing people who have the ability to work hard, but they don't have the talent. When you finally see someone put both of those things together, you impossible to not pick up good things.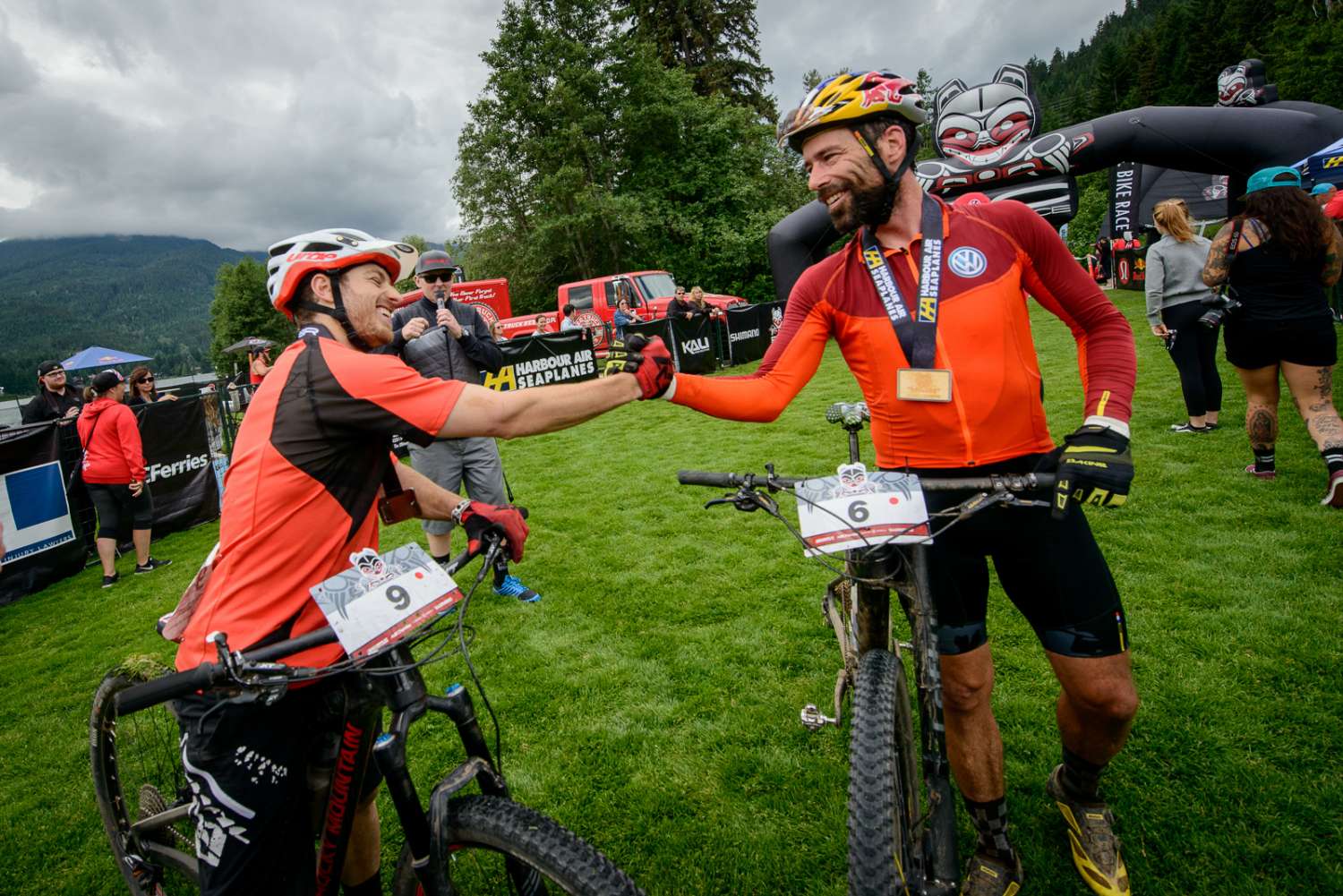 "If I find myself in the middle of nowhere, no one's around, you are left with what you have, by yourself. And it's just you, trying to figure out how much – am I going to push myself more? Am I okay with where I'm at right now? Am I not good enough? All those things go through your mind, but really we are riding in fucking beautiful places and it's awesome! I can't possibly have a bad time out here. I feel great, I'm really lucky to be here."