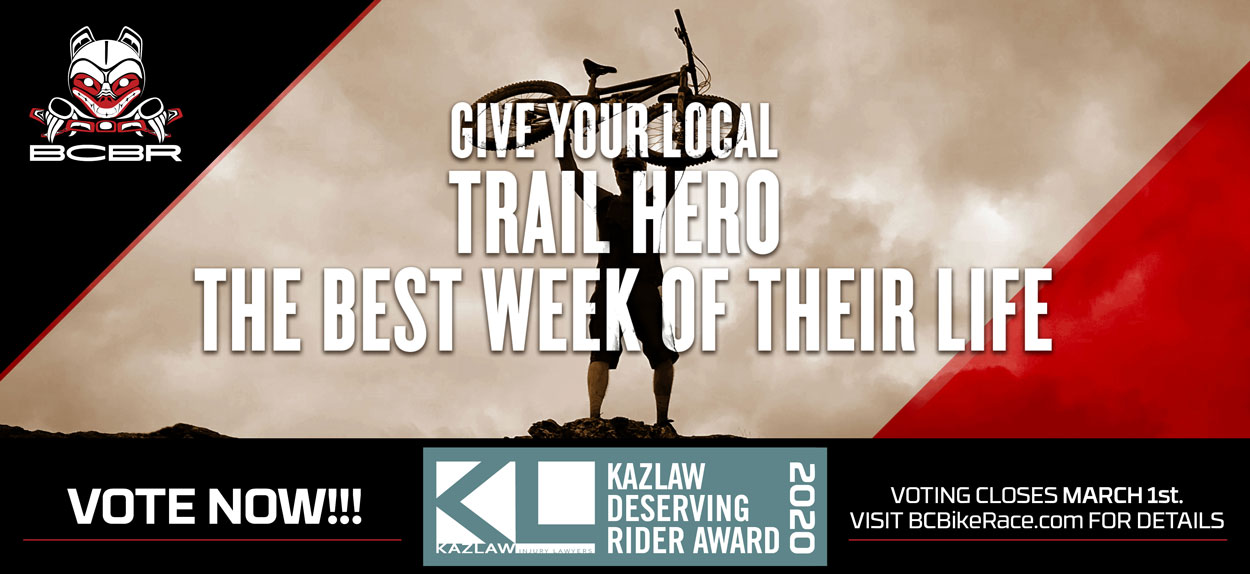 VOTE NOW FOR THE 2020 KAZLAW NOMINEES.
BC Bike Race the 'Ultimate Singletrack Experience' and KazLaw Injury Lawyers are giving away one entry to the 2020 BC Bike Race.
The Kazlaw Community Foundation is providing this coveted spot at the BC Bike Race 2020 for someone who makes mountain biking happen in their community. This lucky rider will be swept away for an amazing seven days of sweet singletrack, scenic views, gourmet meals and camping under the stars.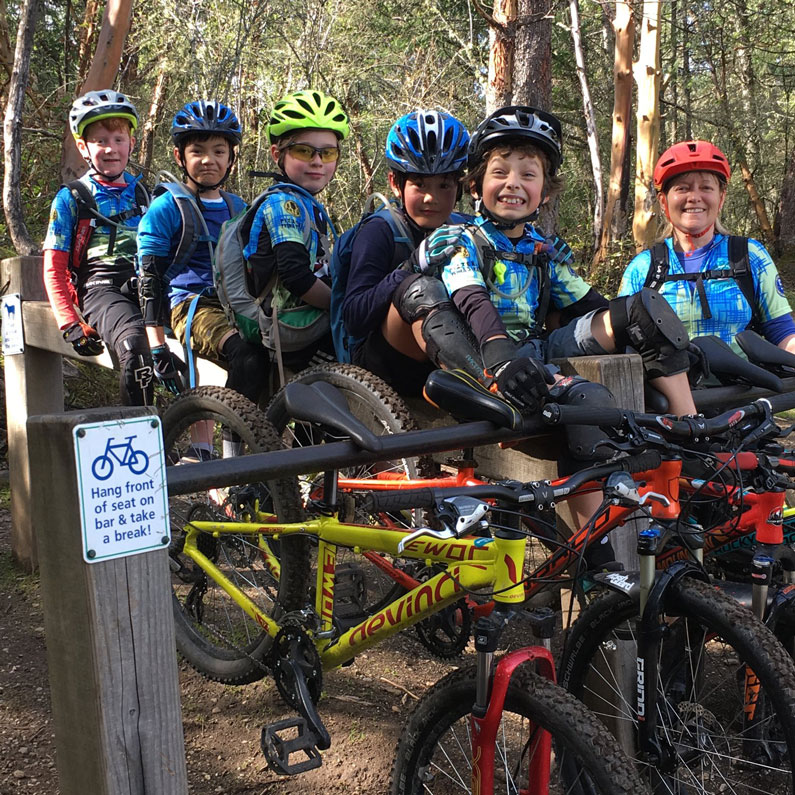 Michele Carr
If there is one person in the Cowichan Valley who is responsible for getting more kids on mountain bikes it is her.  Motivated by wanting to have more kids for her grandson to mountain bike with, she decided to start a local kid focused mountain bike club known as the "Dirt Groms."  Her and her husband Alan quickly earned their PMBI designation and got to work.  What first started as a few kids on trails has now become a local institution with upwards of 30 kids and parents getting out on a weekend to all enjoy and experience the sport of mountain biking.  These rides provide motivation to get kids out of the house and into the outdoors with many of them becoming hooked.
Night, day, rain, snow, fog they keep going all year long with her and her husband's (Alan) un-wavering commitment and support to showing up and getting more kids on bikes.  They also are becoming a common sight at the local race series whether it is cross country, enduro or even cyclocross the dirt groms are out riding, racing and having a great time.  They even host a cheer station at the local Cowichan Valley stage of the BC Bike Race.  It will be no surprise if some of the island's next up and coming riders get their start on one of her rides.
Those of us to share this passion for the sport of mountain biking know that all it takes is for someone to show us the way into this amazing way of life.  Michele and the Dirt Groms program are doing an incredible job of this in the Cowichan Valley and our community is better for it.  Plus, her grandson certainly has more kids to ride with now.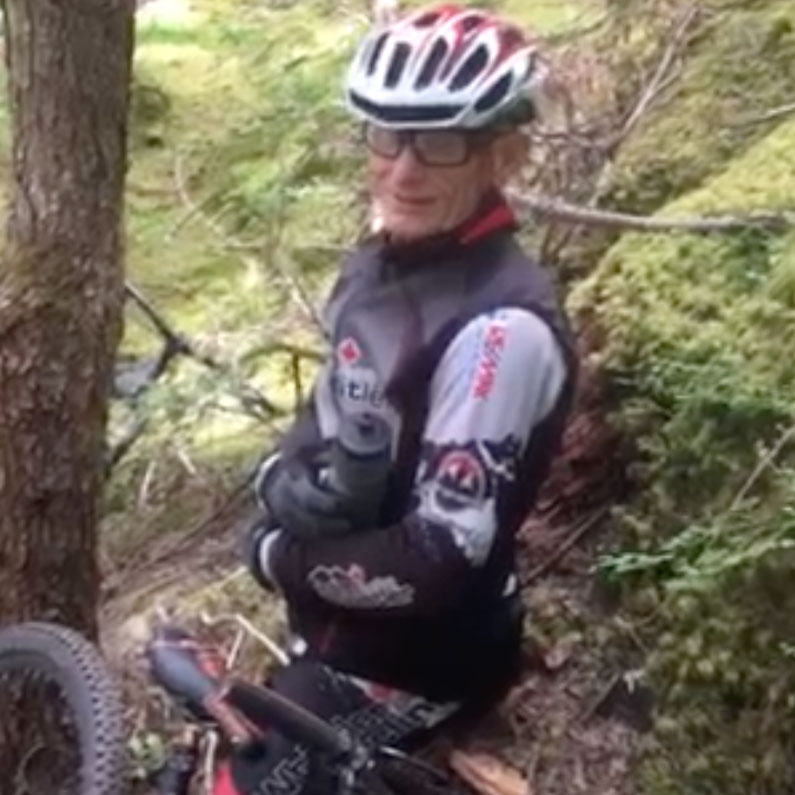 Phil Chew
This is what Phil Chew has done for mountain biking in Whistler over the years and it all starts with Cindy Devine setting him up her old Klein's and ripping around with Dilly, Lumpy and the crew. Phil showed us what trying and effort was all about. That 1 huge piston churning out crazy watts so he could clean the microwave climb and show us how to go downhill. He never looked for pity but preferred the brutal honesty of friends and challenges shared.
For 18 years Phil put on the West Side Wheel Up that raised funds for the upkeep of the West Side Trails along with providing financial support for disabled athletes in sport. With the help of friends he put on this classic event by hard core riders for hard core riders that showcased the incredible work that Dan Swanstrom, Craig Kozman, Jerome David, Tim Andrews, Chris Markle, Tim Haggerty and Dan Raymond had carved out just to name a few.
This trail network was always critical and popular when BC Bike Race visited Whistler for the first decade and each year Phil was leading a key marshal section in a high traffic area and could always be counted on to bring some extra bodies and effort.
Phil was also key in the staging of the Cheakamus Challenge for over 23 years. Looking after setting up the finish and making sure everyone got their t shirt and beer ticket.
Many of the climbs in Whistler now get the "Chewy Test" to see if he can climb in without falling over and he always bounces back up and clips back in.
Phil has also spent many days hopping with buckets of rocks and dirt just to do his part on the trails he loves so much.
I nominate Phil Chew because he kicks ass and leads by example and is a fucking legend. Nobody wears the name "Able" better than he.
Dave Clendenan
Dave has been riding on the North Shore for over 20 years and trail building for over 7. His love of riding and trail building is evident in the passion he brings to his work in the mountain bike community and with the North Shore Mountain Bike Association. Dave's workplace awards the employee with the most volunteer hours with money to donate to their chosen non-profit, and Dave won and donated his prize money (thousands of dollars!) to the NSMBA in 2019.
He is one of the first people out to repair drains and clear trees and damage after storms. He is a true advocate for riders and builders of all abilities. Dave has gathered his friends and family to work on the Empress Bypass trail on Mount Seymour. Many skinnies and features have benefited from his skill and artistry. You can see his chainsaw art, 'The Mushroom,' on the Mushroom trail. He has passed on his love of mountain biking to his son Owen, regularly bringing him on trail days. Dave is a kind and adventurous mountain biker who would make the most of his time racing the BC Bike Race.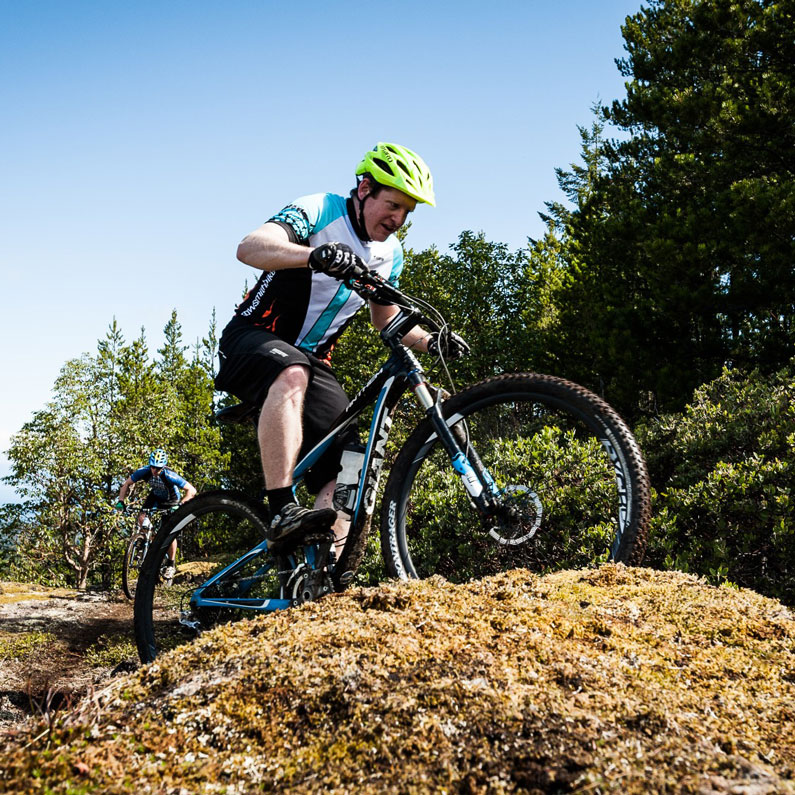 Kebble Sheaff
I would like to nominate Kebble Sheaff for the Kazlaw Community Award. There is no doubt that he helps make mountain biking happen in our community. If you ever raced a mountain bike on Vancouver Island in the past 25 years, chances are pretty good that you have attended a Hammerfest race in Errington. Kebble has been keeping that event going since opening his shop, Arrowsmith Bikes in 1994. During the riding season Kebble's shop organizes three group rides a week in Nanaimo including the Arrowsmith Shredders which is for kids aged 5-12, his staff help lead the groups of kids and parents through the trails or at the local bike park, some of these rides will exceed 100 kids. Kebble has also been directly involved with the Arrowsmith Cycling Club, the group hosts events, rides and helps build and maintain the Hammerfest trail network. He continually supports the Nanaimo Mountain bike club in multiple ways, including donations, event committees and providing his staff for trail projects. Kebble's enthusiasm for mountain biking is contagious, he is one of the most dedicated people to the sport of mountain biking in a place where there are many worthy contenders.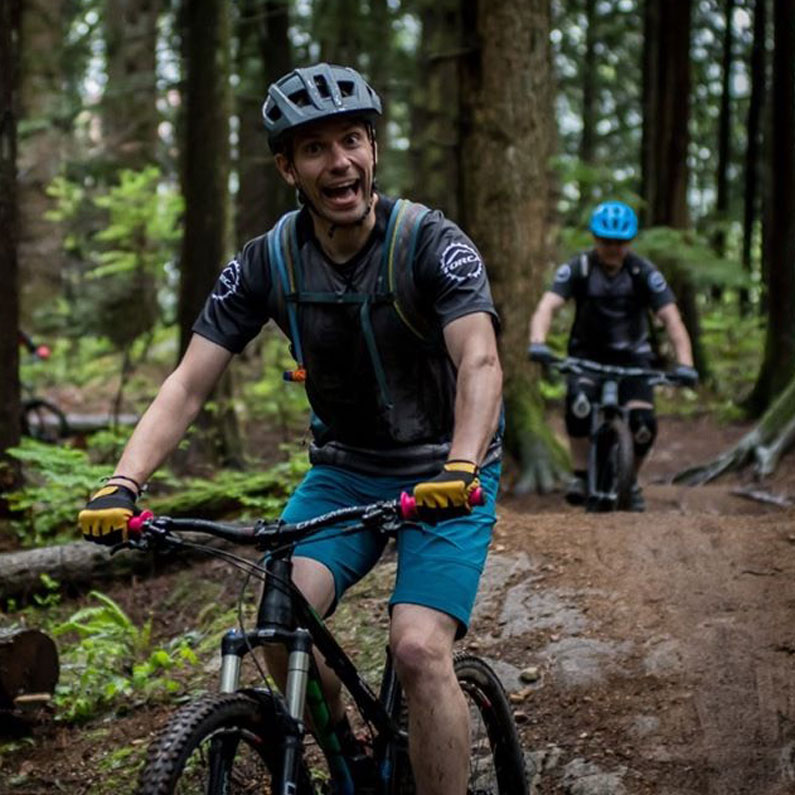 Steve Sheldon
Who is Steve Sheldon?
Why should he get a week to ride?
As you look for the answer
Let his friends be your guide. 
When asked why Steve is awesome
TORCA prez Karaleen jumped at the opportunity 
"He has true passion for mountain bike advocacy, 
building and contributing to the community"
She continued telling me of his efforts
And concluded that he "truly is a selfless volunteer."
I've experienced it firsthand too
As I dug a drainage and drank his homemade beer
Fellow builder Gabor raised a glass too
"An advocate for sustainable trail building for many a year!"
Steve has been a pillar in the Port Moody area,
Creating trails that make you suffer. 
A beautiful climbing trail winds it's way up Eagle,
It may hurt but it'll make you tougher. 
But don't despair and keep pedalling your bike. 
Further up there's an excellent descent:
It's built with care and a local treasure.
Another reason Steve should sleep in a tent. 
Gabor says Steve shares his knowledge and experience
And is always more than happy to do so
"Steve has a big picture view of the BC trail systems"
And is a steward with ideas to see them grow. 
Gabor gushed how Steve nurtures future trail builders
And spends countless hours at public trail days
We sometimes wonder if Steve actually sleeps
As he's so committed to the cause always. 
Longtime TORCA director Ken felt that summed it up
"Nice job! That's eloquent. I can't add to these."
We hope this quick poem earns our dear friend Steve 
A well deserved week on his bike amid the trees!!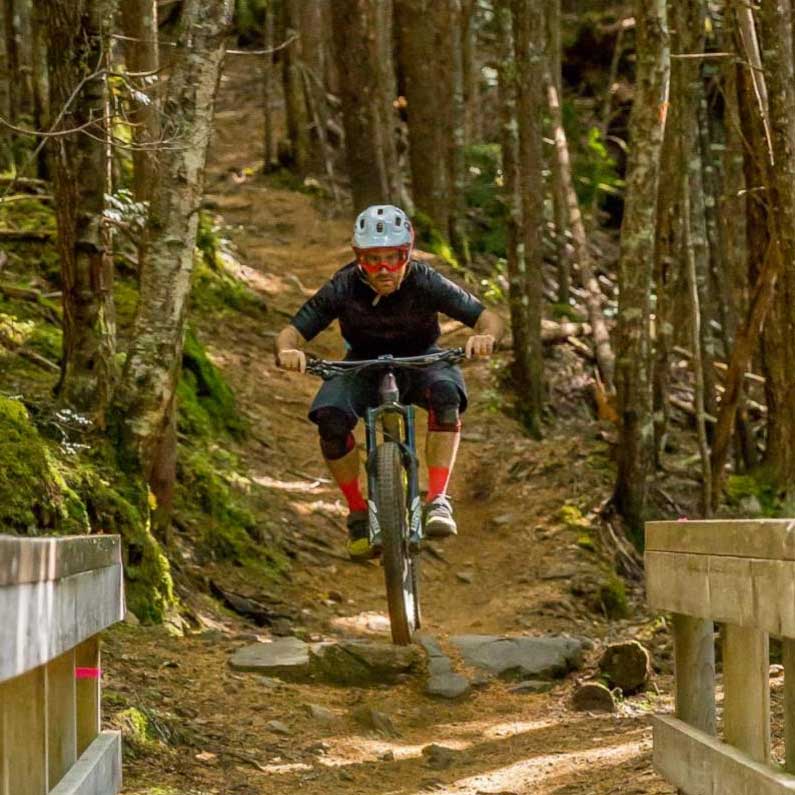 Theo Theodossiou
I am nominating Theo Theodossiou from Terrace BC for this award. While only living in Terrace for just over three years he has made a considerable effort to build and maintain our local trail network. He has been a volunteer trail builder for the past three years, and this year won a local award for attending every single possible volunteer trail building day (once a week for the entire summer). He has helped to volunteer in fundraising and racing events and often goes out on his own outside of TORCA volunteer hours to maintain the trails and update features.
As a mechanical engineer he also helps to run the local information sessions on bike maintenance and teaches local riders how to care for their bike and ensure safe functioning. He often will notice while out on the trail if a biker could maximize their experience by adjusting suspension etc. and will do this for free so that members of our community are getting the best biking experience.
He has become a bit of a local expert in terms of purchasing and maintaining bike and bike parts, and spends a significant portion of his free time in the summer offering advice to the biking community regarding what parts to purchase, taking into account their riding style and our terrain.
Theo is also a very dedicated rider. He commits so much time to maintaining trails and bikes because biking is his main passion. He recorded 165 hours on strava. He recently with a co-TORCA member Tyler Wilkes showed Nate Hills around the trail and hosted him while he was here. A video of him biking is posted on Nate Hill's YouTube channel.
Theo was a varsity mountain biking couch in University and is often a go to person for coaching community members who are keen to get into the sport. The great thing about Theo is that even though he is one of the fastest and most technically skilled riders in town, he is just as passionate about slowing it down and spending half a day on the green trails teaching a new member fundamentals. He often hosts a once weekly social ride and has recently completed his PMBIA level 1 so that he can offer formal coaching to Terrace members through the TORCA association.
I think if you were to ask the Terrace TORCA community who is the most dedicated member, you would find the name to consistently show up would be Theo. His passion for the sport, the trails, and the community is obvious to anyone who knows him, even superficially. I really feel that that kind of dedication and passion is something that as a community we need to foster and protect. That is why I am nominating him for this award
BC Bike Race Announces the 10th Annual
Kazlaw Community Award
VOTE NOW!
BC Bike Race the 'Ultimate Singletrack Experience' and KazLaw Injury Lawyers are giving away one entry to the 2020 BC Bike Race.
The Kazlaw Community Foundation is providing this coveted spot at the BC Bike Race 2020 for someone who makes mountain biking happen in their community. This lucky rider will be swept away for an amazing seven days of sweet singletrack, scenic views, gourmet meals and camping under the stars.
Contest Details:
March 1st voting closed

March 2nd winner announced!

 

About KazLaw Injury Lawyers: Marc Kazimirski is a passionate cyclist, a former Canadian national team member and is a personal injury lawyer in Vancouver BC. Marc is a cycling advocate and the Kazlaw Community Mountain Biking Award is meant to support cycling in your community. More info on Kazlaw Injury Lawyers – www.kazlaw.ca
"I'd like to extend my deepest gratitude to Marc Kazimirski for creating the award in the first place; recognizing the efforts put forth by so many members of the mountain bike community. The BC bike race for me was one of the most incredible experiences of my life. Having the opportunity to meet riders from all around the world and share in their astonishment for what the trails of British Columbia have to offer was a true privilege."
~ Joel Harwood, Squamish, Past Kazlaw Winner