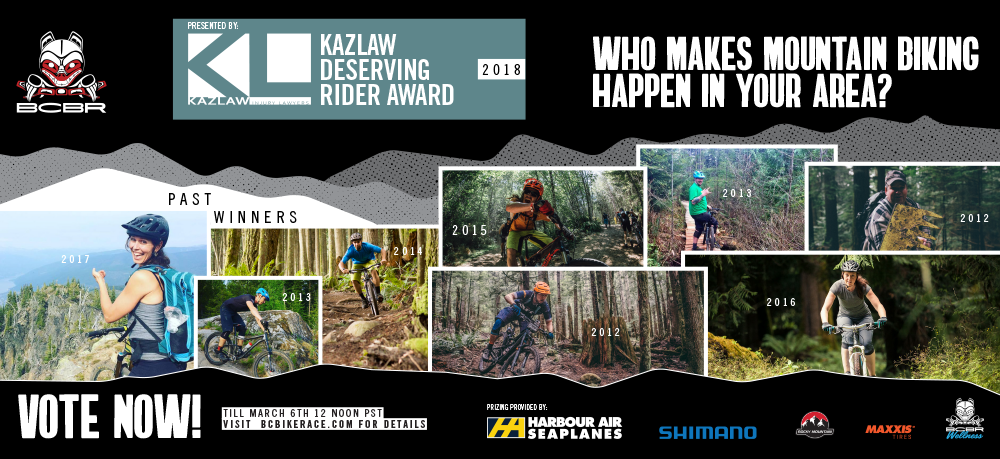 Kazlaw Deserving Rider Award
BC Bike Race Announces the 8th Annual - BC Bike Race the 'Ultimate Singletrack Experience' and Kazimirski Law Corporation are giving away one entry to the 2018 BC Bike Race to someone who makes mountain biking happen in their community.
Marc Kazimirski, based in Vancouver, is a passionate cyclist and former racer who believes in giving opportunity to those that give back.  In 2007 KazLaw was created to make a positive difference in the way that personal injury law was practiced in British Columbia. Our goal then—as it still is today—was to dedicate ourselves to the highest levels of service, integrity and excellence when advocating for injured individuals.  Marc Kazimirski is a passionate cyclist, a former Canadian national team member and is a personal injury lawyer in Vancouver BC. Marc is a cycling advocate and the Kazlaw Community Mountain Biking Award is meant to support cycling in your community.
Nominations are now closed, you can view the profiles of the 2018 nominees above. Don't forget to vote before March 6!
*          *          *
Nominate a deserving rider in your community for this award and they will WIN an ENTRY TO BC BIKE RACE.  What do we mean by a deserving rider? They could be a trail builder, a dedicated volunteer, an inspiring rider, a developing young racer (19+) or anyone else you feel deserves this opportunity!
How: To nominate someone, please submit a short write up & picture (low res jpeg) describing what this person does to make mountain biking happen in their community, (Open to BC residents only) Email nominations to karen@bcbikerace.com by Feb 16th, then we'll announce the eligible nominees and put it back to you to VOTE ON THE MOST DESERVING RIDERS.  Feel free to make your submissions fun! (no one said you can't get creative & crazy, impress us!)
Rules: Once voting opens, you must provide a valid email address to vote and you will only be allowed one vote. Profiles will be posted on our website to view & vote, Voting will close on March 6th at 12:00pm PST. Entries are only valid for the 2018 BC Bike Race and are non-transferrable or worth cash value.
Contest Details:
Open for submissions Jan 17th
Closed for submissions Feb 16th
Voting on top nominees Opens Feb 20th
Voting Closes March 6th
Winner Announced March 8th
"I'd like to extend my deepest gratitude to Marc Kazimirski for creating the award in the first place; recognizing the efforts put forth by so many members of the mountain bike community. The BC bike race for me was one of the most incredible experiences of my life. Having the opportunity to meet riders from all around the world and share in their astonishment for what the trails of British Columbia have to offer was a true privilege."  ~ Joel Harwood, Squamish, BC