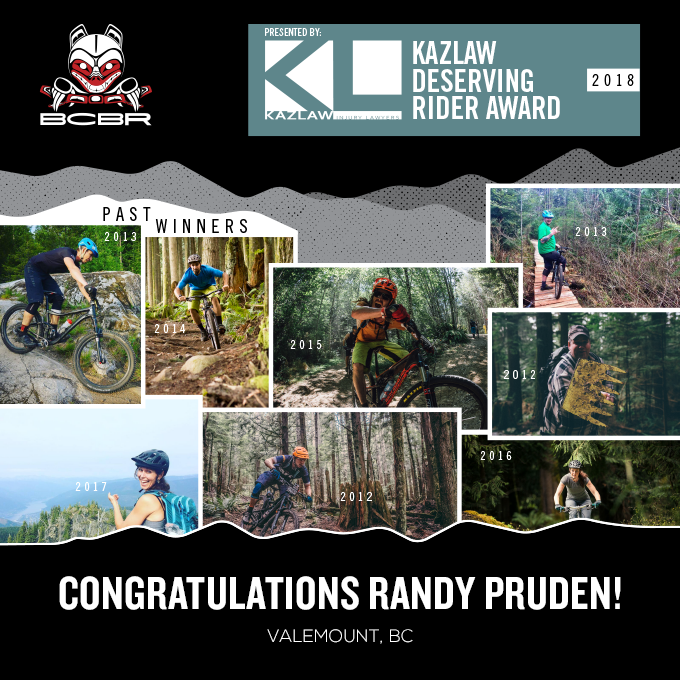 Kazlaw Deserving Rider Award
BC Bike Race Announces the 8th Annual - BC Bike Race the 'Ultimate Singletrack Experience' and Kazimirski Law Corporation are giving away one entry to the 2018 BC Bike Race to someone who makes mountain biking happen in their community.
Marc Kazimirski, based in Vancouver, is a passionate cyclist and former racer who believes in giving opportunity to those that give back.  In 2007 KazLaw was created to make a positive difference in the way that personal injury law was practiced in British Columbia. Our goal then—as it still is today—was to dedicate ourselves to the highest levels of service, integrity and excellence when advocating for injured individuals.  Marc Kazimirski is a passionate cyclist, a former Canadian national team member and is a personal injury lawyer in Vancouver BC. Marc is a cycling advocate and the Kazlaw Community Mountain Biking Award is meant to support cycling in your community.
The 2018 Kazlaw Community contest is now closed. Congratulations to Randy Pruden from Valemont! 
Thank you to everyone who participated. All the nominees are inspirations in their communities and we are all lucky to have people like them involved in mountain biking! Have a read through their profiles to find out how they make mountain biking happen in their communities!
"I'd like to extend my deepest gratitude to Marc Kazimirski for creating the award in the first place; recognizing the efforts put forth by so many members of the mountain bike community. The BC bike race for me was one of the most incredible experiences of my life. Having the opportunity to meet riders from all around the world and share in their astonishment for what the trails of British Columbia have to offer was a true privilege."  ~ Joel Harwood, Squamish, Past Kazlaw Winner