Lesson 13 of 30 in the Mental Fitness section, Ryan Leech Connection.
Pre-pro-rider-career, when I was dreaming of being a ski-bum, I read 'Inner Skiing' by Tim Gallwey. I started mountain biking soon after that time, and this body-mind awareness approach shaped my learning progression from xc riding to professional mountain bike trials rider.
Over my 20-year riding career, I have read dozens of books on the topic and believe that mental fitness is a powerful skill-set to consider developing - and not just for results but for the enjoyment of riding too.
There are so many different practices to explore in this realm, below is just one example I created for myself on a recent ride just out of curiosity (my results are below) and thought I'd share to find out
Do you Charge, Find Fun, or Flow?
How does your mindset affect your speed? How about your enjoyment?
Charge: For speed, this is the strava-land mindset. You're charging and pushing yourself to get better and faster  - this also includes showing off to your friends to gain praise!

Fun: For enjoyment, finding and choosing the most pleasurable and fun lines even if they're not the fastest or raddest.

Flow: This is a state often found when both charging and blissing are combined.
All three are great places to be, though do you know which you favor? Speaking honestly with different riders it seems the most common is to Charge even if they think they're just out for fun! (This is my default!). This practice aims to help you sort that out so you can mix it up. I certainly appreciate getting in the pure fun mindset more often these days!!
Practice Preparation:
Go for a ride by yourself (that is if you're worried your mates will poke fun at you 😉

Select a section of a downhill trail you know quite well already

Get your timer ready and a way to take notes.
Go for Three Runs, each with a Different Objective:
Charge: Go for your fastest time

Fun: Ride the trail in the most enjoyable and pleasurable way you can

Flow: Combine both charging and blissing and see what happens.
*at the end of each run, note your time and how you felt.
My own Results as an example:
First Run Charging: I got in the race mindset. I scared a dog and a person and my tires lost traction a couple times on acceleration. I grit my teeth, and it was a rough ride, I did a bit of bouncing around but my lines were direct. My body felt a little impacted but that didn't matter! Time: 3:15
Second Run Fun: I got in a mindset for enjoyment. I wanting to make my riding like art. Time did not matter, I smiled at someone as I passed because I was smiling the whole way anyway. So it was strange that my time was faster at: 3:08
Third Run Flowing: I blended the first two mindsets and felt the tug of attention between the two, but pretty soon the mind gave up and I just let it flow. Surprisingly I took a few more risks, it was an exciting ride, it was smooth yet fun & fast. I wasn't going for time yet it turned out to be my fastest. Time: 2:54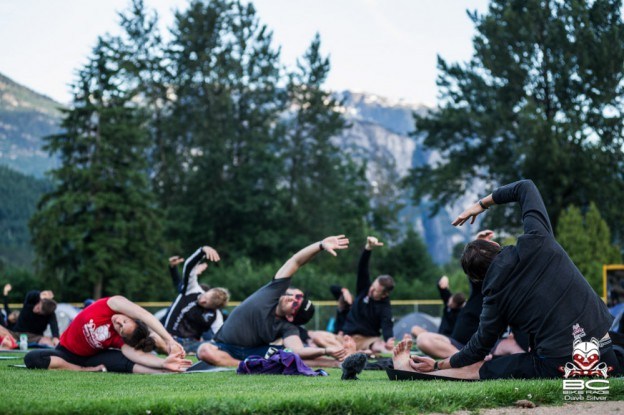 During his 20-year pro riding career, Ryan Leech performed thousands of stunt shows around the world, including Cirque du Soleil, IMBA World Summit, and Crankworx. He is credited with evolving the boundaries of trials riding and has appeared in numerous riding films, including Crux and the Kranked series. Now officially retired from demonstration riding, he continues to share his expertise with riders from around the world through the Ryan Leech Connection, an online training platform that teaches MTB skills through a unique blend of step-by-step video progressions and personalized coach feedback. Ryan is a BC Bike Race Alumni and has also traveled with the event to provide yoga classes as a Lululemon Ambassador.